Field excursion
On Wednesday the 6th of April we will visit and discuss:
The extensive inter‐tidal sandbar system in the Menai Strait, populated with numerous smaller-scale dune and ripple systems.
The Newborough Warren, which provides a large-scale coastal dune environment, forming the hinterland of a barrier beach/spit system. The beach has inter‐ and sub-tidal sandbars, a recurved distal end with numerous sand bars, overwash fans and deposits, etc.

The Anglesey Sea Salt Centre for a guided tour: charcoal-filtered seawater is drawn from the Menai Strait around Anglesey, and the famous "Halen Môn" is hand-harvested here. Before the water even reaches the Salt Cote, the natural environment has already provided two filters: a mussel bed and a sandbank.
MARIDV Field Trip Overview Map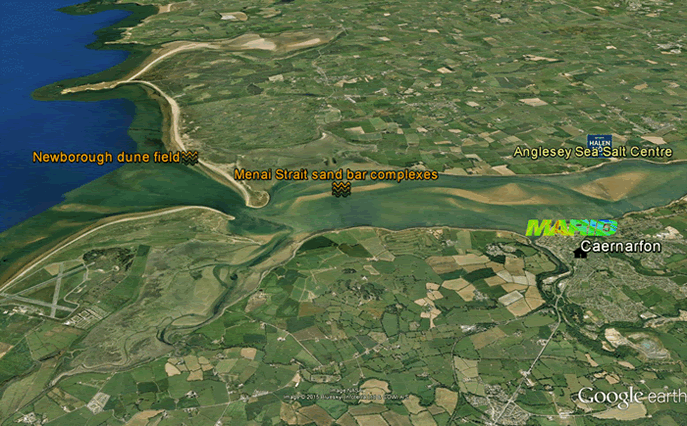 MARIDV Field Trip Map

Newborough Beach, Photo Courtesy of Alejandro González